Education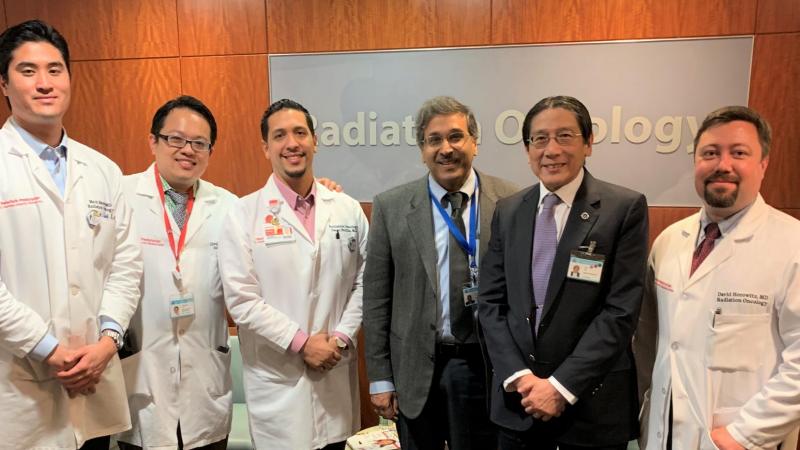 For more than 75 years, the Center has been at the forefront of training undergraduates, medical, and graduate students in radiobiology, health physics, and medical physics.
Resident Training program
The faculty instructs medical residents in the Departments of Radiology and Radiation Oncology in the Columbia University Vagelos College of Physicians & Surgeons and offers a citywide course for Radiology residents as part of their training.
MS Degree in Radiological Sciences
Environmental Health Sciences investigates how environmental exposures to biological, chemical, and physical agents affect human health and disease. As the need to understand radiation exposure grows, so does the need for professionals with intensive scientific training. The Department of Environmental Health Sciences offers the Master of Science degree with a concentration in Radiological Sciences.
Our curriculum is aimed at fulfilling an unmet need for public health expertise in understanding and communicating the health effects of radiation exposure. The unique focus of the Radiological Sciences track, the first such program offered by a School of Public Health, is at the intersection of environmental health science and the human health risks of radiation exposure arising from an accident, nuclear disaster, or terrorism.
Visit the Mailman School of Public Health for more information.
Microbeam Training Course at RARAF
These courses are designed to provide training and expertise to scientists interested in the use and development of microbeam facilities for research in biology, radiation biology, and radiation physics. The 2012 course followed the 10th International Workshop: Microbeam Probes of Cellular Radiation Response hosted by RARAF on March 15-17, 2012.
Sponsored by the National Institute of Biomedical Imaging and Bioengineering (NIBIB), the three-day course was offered to a limited group of scientists selected by an open, competitive application process. Applications were welcome from graduate students, postdoctoral fellows and faculty with an interest in the use and development of microbeam facilities. Both foreign nationals and U.S. citizens may apply. This intense program is taught by leading Columbia University biologists and physicists who are pioneers in the development and use of microbeam technologies.
Visit RARAF to learn more about the Microbeam Training Course.
Radiation Safety Officer (RSO) Training
Course Overview
2018 dates: July 13-15 and July 20-22, 2018 (40 hours over two long weekends)
Fridays 2:00pm - 6:15pm; Saturdays/Sundays 8:00am - 5:30pm
Columbia University's Department of Environmental Health Sciences offers a 40-hour course to meet the Nuclear Regulatory Commission (NRC) Class C Radiation Safety Officer (RSO) training requirements.  The curricula are designed for individuals working in academia, industry, and government laboratories seeking training in the safe handling of radioisotopes to meet local, state, or federal regulatory and/or training requirements. Participants that complete this course will fulfill the 40-hour requirement as stated in 10CFR33.15 - Requirements for the issuance of a Type C specific license of broad scope:
At least 40 hours of training and experience in the safe handling of radioactive materials, and in the characteristics of ionizing radiation, units of radiation dose and quantities, radiation detection instrumentation, and biological hazards of exposure to radiation appropriate to the type and forms of byproduct material to be used.
The NRC requires any organization that uses radioactive material to have a licensed, designated Radiation Safety Officer (RSO).  This course is designed to help such organizations apply for or renew their license for use of radioactive materials. The course is not intended to meet the licensing requirements for medical use of radionuclides or fluoroscopic imaging.
Course instructors, with faculty appointments at Columbia University and the Columbia University Medical Center, are experts in their fields.  They include faculty from the Center for Radiological Research, the Department of Environmental Health Sciences, the Department of Medicine and the Department of Environmental Health & Safety.
Visit Columbia University Mailman School of Public Health to learn more about the Radiation Safety Officer Training.